Memory Game Tutorial
Memory game content type allows authors to add their own images (and optional text) to a memory game. To play the game, users search for image pairs, which will display a specified text message once a matching pair has been found.
Example
Here's the Memory game example we'll create in this tutorial:
When to use Memory games
You can use memory games in any type of exercise that requires the learner to match two images.
There are several memory game options available:
Matching two same images,
Matching two related images (For example, country flag with a city, an animal with its habitat etc.),
Adding sound to represent each image,
Displaying feedback per pair when a match has been made and
Customizing a look and feel of the game by changing colors or adding a background image.

Step 1: Topic
In this example, we will create a memory game with 5 types of berries that learner has to match. After the match has been made, we will provide some textual feedback for each berry type.
Step 2: Creating a Memory game
Select the New content option and choose Memory game from the list of Content types: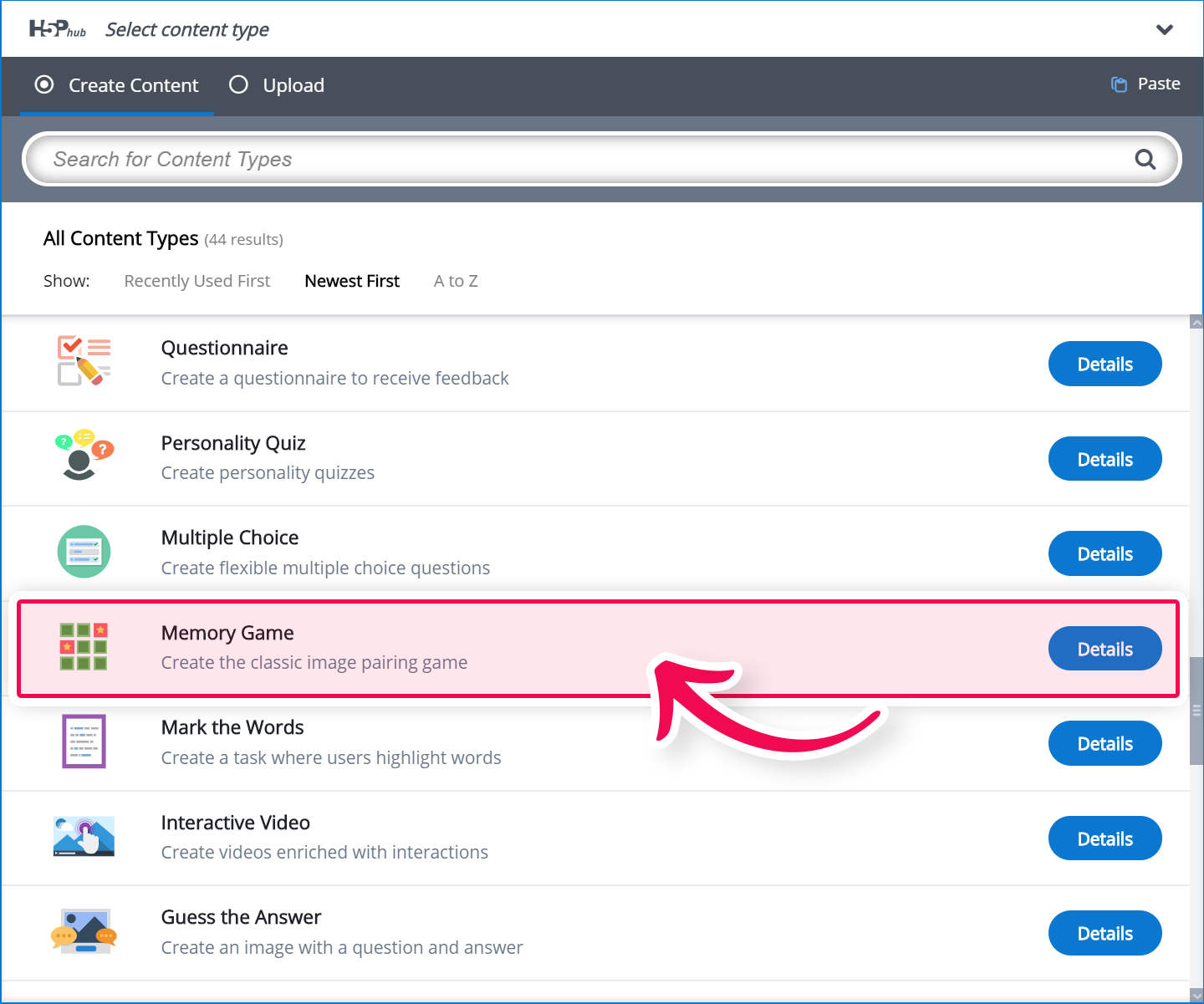 Step 3: Memory game editor
The Memory game editor should now appear. Type in a Title: Berries memory game. The editor should look something like this:
Step 4: Cards
We will start by filling in the Raspberries card.
By default, two cards already exist in the set: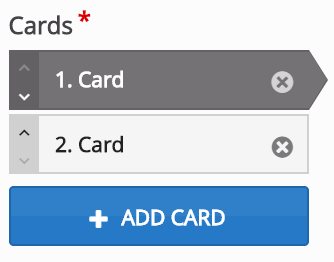 We will fill in the 1 st card with the following content:
You should get something like this: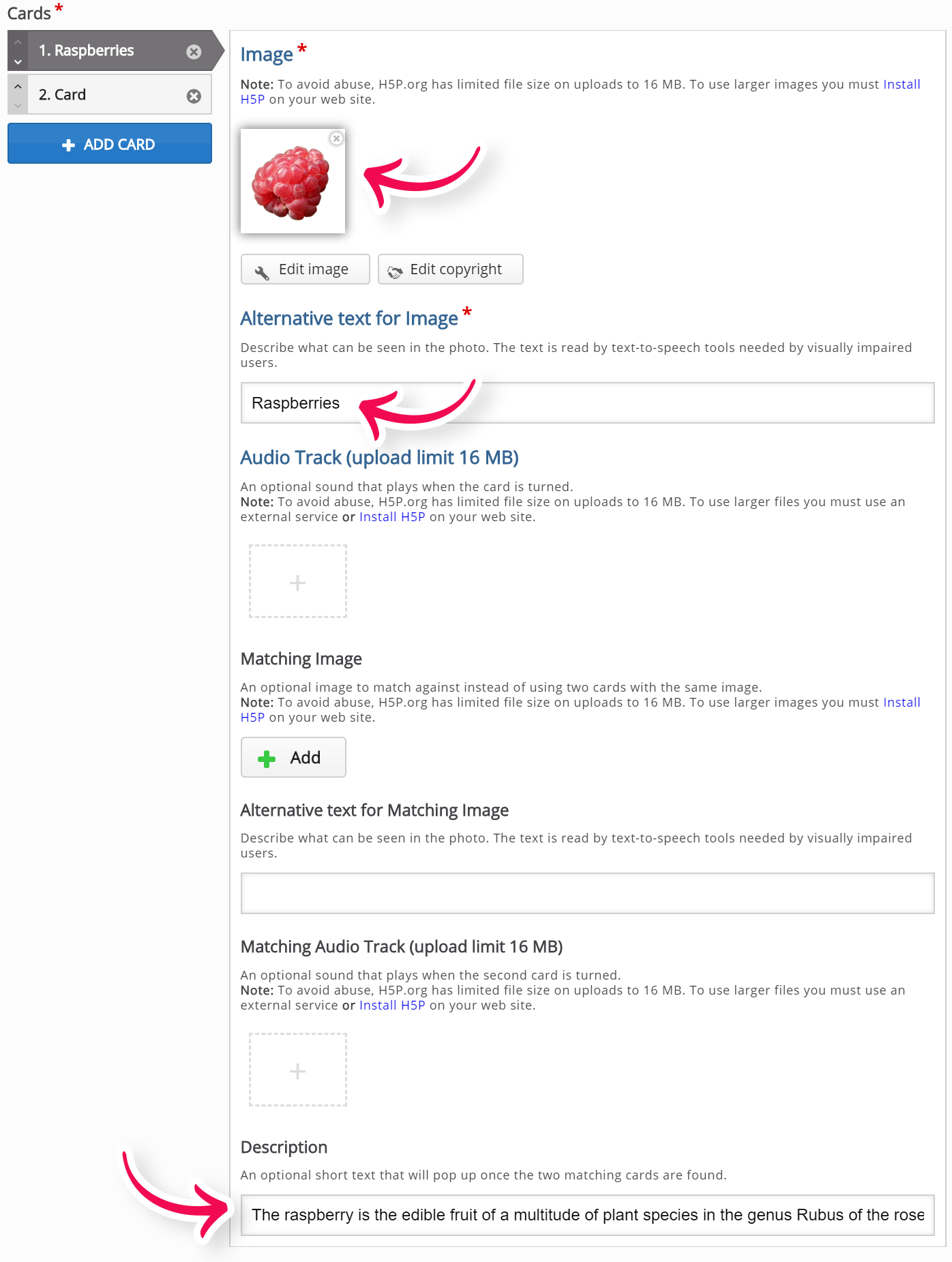 You will notice that we left Matching image field empty. This is because we want the learner to match two same images.
If you would like to match Raspberry image with its leaves, for example, you would add an image of Raspberry leaves as Matching image.
Step 5: Adding more cards

In the same way, we will add the next four cards:
2nd card:
3rd card:
4th card:
5th card:
In the end, we should get five cards like shown here: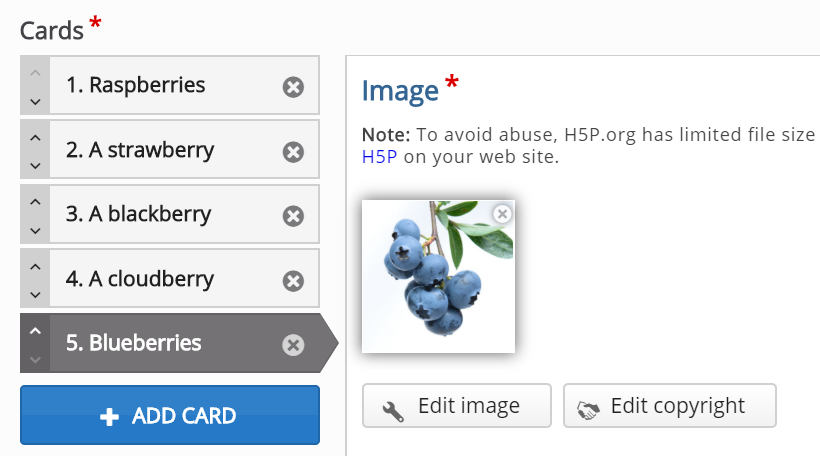 Step 6: Finishing up
Save the node/article when you're satisfied to view your Memory game.